Your choices matter - the Christmas coundown has begun
Posted on
The Christmas countdown – your consumer choices matter… NOW!
It is nearly that time of year again, and the Christmas shops have already started to shine their brightly coloured lights and baubles on all of us unsuspecting shoppers.
However, all that sparkles isn't gold... and is likely to not be recyclable either! Your choices as a consumer matter. Research by the London Cleaning System shows Christmas is having a startling impact on the environment.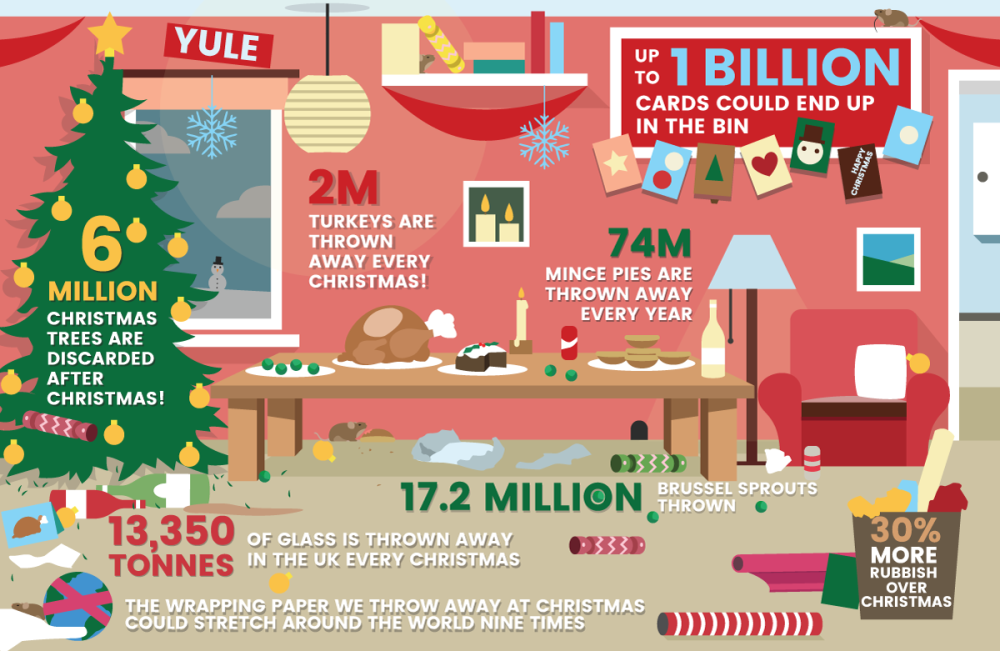 Now is the time to be thinking ahead and planning a more eco-friendly, lower impact festive season.
Want to know what you can recycle and limit your impact? Here's our useful guide to what Christmas items can and can't be recycled…
Item

Can it be recycled (or composted?)

Christmas Tree (real)

YES

Real Christmas trees can be composted or recycled (check your local council's scheme)

Please do not let your tree be one of the 6 million trees discarded instead of recycled.

Christmas Tree

(fake)

NO

Reuse your old one & please don't buy another one!

Why not donate your old fake tree to a local project to extend its life before landfill i.e. upcycling centre or homeless hostel

Christmas cards

YES

A staggering 1 billion cards end up in the bin after Christmas, when they could be recycled.

To be on the safe side choose non-glittery cards for the easiest recycling but all cards can be recycled, please do not bin them!

Wreaths (natural)

YES – composted or put in your green waste (as long as not excessively covered with non-biodegradable glitter)

Wreaths (synthetic)

NO

Reuse your old one and please do not buy another one.

Why not check out Pinterest for lots of wonderful homemade eco-friendly wreath ideas

Baubles (glass)

NO – broken glass baubles need to be put in general waste

Baubles (plastic)

NO

Other decorations (plastic)

NO – any decorations that are plastic or contain plastic are not usually recycled

Other decorations

(Natural)

YES

Natural decorations – holly, pinecones, fabric, ribbon can all be either composted or recycled

plant based decorations – green waste or compost

Decorated nuts, dried fruits, decorated biscuits – food recycling

Fabric decorations & ribbon = clothing recycling

Paper decorations – paper recycling

Christmas lights

YES

Put out in household recycling/ recycling collection for electrical items (depending on your local council)

Tinsel

NO

made from PVC all traditional tinsel cannot be recycled

Wrapping paper

YES – if suitable

Please choose non-glittery matt wrapping paper to ensure it can be recycled.

Food waste

YES

Any out of date, or waste food can be recycled

Excess food (still in date, unopened) you no longer want can be donated to your local food bank. Many supermarkets have donation points in store.

All the cardboard, paper & packaging from Christmas Presents

YES (mostly!)

Boxes, postal packaging, packaging fillers (made from paper, card etc.) can all go in your recycling.

Some local councils recycle polystyrene packing, check in your area.

Unwanted presents

Donate them or sell them but please do not bin them.

Why not ask your friends and family to donate to a charity or cause close to your heart instead of buying presents you don't want or need?

Handcraft as many presents as possible avoiding any unrecyclable materials and ensure you keep it plastic free.

Handcrafted gifts often mean more and add that personal touch. The whole family can get involved, there are lots of simple child-friendly gift ideas (food gifts or craft gifts). The key is tart handcrafting gifts early so you aren't left panicking the week before!
Just remember, you may not be the handcraft type – and that's okay too… there are lots of us crafters out there beavering away to make beautiful eco-friendly handcrafted items for you. By supporting your network of local crafters, you are supporting small business in your area. Be aware, small companies may have lead times to make the item you are ordering, please consider this when you are ordering as some may close their order books during very busy periods.
You can make positive choices when planning this upcoming festive season – a little bit of planning to find recyclable, plastic free or more eco-friendly options really could go an incredibly long way to reducing the rubbish this Christmas.